Sesame oil is a type of plant-based cooking oil often used in Asian and Southeast Asian cooking. This oil is light yellow in color and has a strong nutty flavor that adds depth and character to stir-fry and fried dishes. This oil can be used as a condiment too. You can add a dash to your favorite dishes and dips for a hint of flavor. Sesame oil is packed with antioxidants that promote better health. Unfortunately, rancid sesame oil can lead to sickness! This is why proper storage is important when it comes to sesame oil!
As with all types of plant-based oils, sesame oil has a limited shelf life. Storing the product in less than ideal conditions will only hasten the breakdown of the oil. To make the most out of your supply, you have to know the best way to store this product.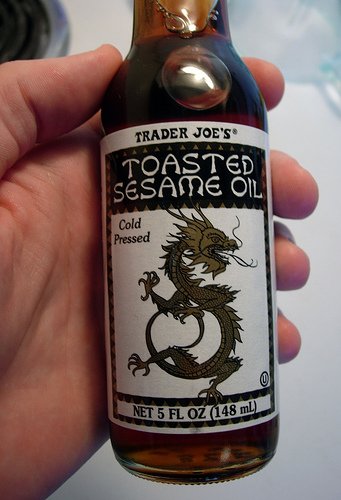 Image used under Creative Commons from Adam Engelhart
Can Sesame Oil Go Bad?
Yes, sesame oil will go bad especially if the container has not been sealed properly. Sesame oil can be processed in many ways but even the most refined type of sesame oil will go bad at some point. The secret to extending the shelf life of sesame oil is to keep the bottle closed tightly at all times.
Sesame oil has a best by date on the label and it is important to check the expiry date before using the oil. The good news is, it will take a while before sesame oil goes bad. Most plant-based oils will go bad within a few months. But sesame oil will keep fresh for several months. But the longer it is kept in storage, the faster the oil will degrade. Our advice is to go through a bottle quickly for optimal flavor.
Signs that Sesame Oil Has Gone Bad
It's easy to tell if sesame oil is no longer safe to use, a whiff of it will clue you in! If the oil has developed an unpleasant odor, the oil has gone bad. If the oil has developed an off taste, discard the product. Check if there's been a change in its color. If the product has darkened, give it a sniff to check for changes in the aroma before discarding.
How to Store Sesame Oil?
You probably think that sesame oil, just like any cooking oil, is best kept in the pantry at room temperature, but you are in for a surprise. Sesame oil is best kept in the refrigerator. Although you can store sesame oil in the pantry, this method is best for unopened bottles of sesame oil. Once the bottle of sesame oil has been opened, it should be refrigerated to slow down the degradation of the oil.
The fact is, sesame oil is quite sensitive to hot, humid temperatures. Unopened bottles of sesame oil must be kept in a cool place, away from sources of heat and direct sunlight. Unfortunately, pollutants could cause the product to oxidize. This increases the risk of spoilage. Refrigeration extends the shelf life of the oil while optimizing its nutty flavor.
Image used under Creative Commons from insatiablemunch
Keeping the product in the fridge requires no prep at all. Just place a bottle of sesame oil in the coldest spot in the fridge and you're done. Storing the product in the fridge means the oil will solidify. This will not alter the flavor or color of the oil at all. Just scoop the solidified oil when you need it and it will return to its fluid consistency at room temperature.
When kept at room temperature, opened bottles of sesame oil will keep fresh for 6 to 8 months. But when kept in the fridge, the product will stay fresh for 2 years or so.
Can You Freeze Sesame Oil?
Yes, you can also freeze sesame oil. When stored in the freezer, sesame oil will keep indefinitely. If you'd like to freeze sesame oil, we highly suggest transferring the product to a freezer-safe container. Divide the product into serving portions so you don't have to defrost the whole thing when you only need a couple of portions.
Summary
Sesame oil is quite delicate so it always pays to check how to store the product properly to maximize your supply! If you can use up the oil within a few months then it is best to store the product in the fridge. But if you'd like to keep the product in long-term storage, freezing may be ideal.